Encourage children to dine in schools

National School Meals Week aims to raise awareness of the need for school food served in schools. National School Meals Week (NSMW) has been running for almost 30 years. Whether you are a Parent or Pupil, Supplier, School Teacher or Caterer, there are so many ways you can get involved this year.
Encourage pupils to stay for school meals during the week. Perhaps your school can engage in special school menus and themes to encourage children to eat at school.
Schools are recognising the link between healthy eating and improved concentration, behaviour, and achievement in the classroom. Over the last few years, school dinners have undergone a dramatic change in terms of the food on offer and dining room surroundings.


How SBMs can help


Parents and carers have a substantial influence on what their children eat but how can SBMs have an influence? Schools can choose how they provide their catering, and which contracts they manage within the government guidelines. It's essential to use suppliers with a balanced approach when it comes to food for primary schools.

Before implementing any changes SBMs can make use of surveys, parents' evenings, and discussions to identify what the problems are and discover clear solutions. You can also use inspiration from other dining spaces and restaurants. It's always a good idea to check in with school governors, local communities, or catering services if additional support is needed.



Proving the right dining atmosphere
Improving pupils' dining and lunch experiences will have a positive impact on school mealtime and the whole school day. Improving the overall dining experience can help to improve and promote positive behaviour as well as encourage more children to eat school meals.
Children will appreciate and be motivated by the right organisation and atmosphere in their dining space. Whether it's for breakfast or after school clubs, encouraging children to sit at dining tables is a must. The space that children eat in can have a big impact on their understanding of healthy eating. Therefore, you will find that focusing on your dining room is important.

Whether it's round tables, square tables, low or high chairs, furniture plays a huge part in the dining hall space. Children are more likely to eat a healthy meal at school if they have a seat and a table. A table is the key part of any mealtime.  If your dining area is short on space, then a stackable table and benches set is an ideal dining solution for children.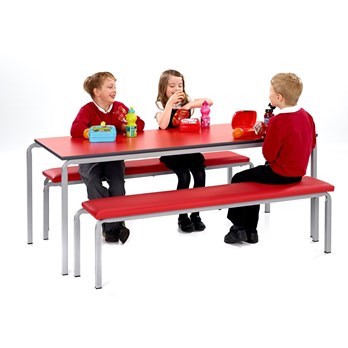 Additional ways to provide a suitable dining space
Friendly coloured walls
Children's artwork
Healthy food imagery
Soft ambient music
Defined zones



There are a range of resources available here if you'd like to take part in National School Meals Week