Evo-Stik Serious Glue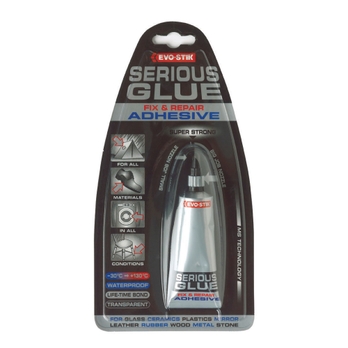 Evo-Stik Serious Glue
G471750
Product Description
• Extremely strong.
• Odourless and solvent-free.
• Impact and vibration resistant.
• Extreme temperature resistant (effective between -30° and 130°C).
• Effective on damp surfaces, waterproof even in salty or chlorinated water.
• Paintable.
• UV resistant.
• Non-drip gel formulation repositionable for 20 minutes.
• Sets in 2 hours with maximum strength after 24 hours.
• Works on smooth and rough surfaces including wood, hard and soft plastics, leather, rubber, marble, stone, fabrics, ceramics, earthenware, glass and metal.
• 33g.