Harrod Matchplay Volleyball Posts
Pair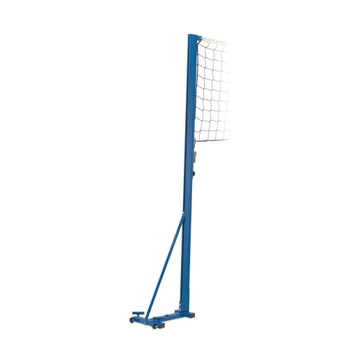 Harrod Matchplay Volleyball Posts
Pair
PVBL28379
Direct Delivery – up to 7 days
Product Description
The Harrod Sport ® Match Play Volleyball Posts are adjustable to mens, ladies and junior play without removing the net, with a wheelaway steel base which does not protrude into the court.
• Upright brace for added stability.
• Powder coated. Iron phosphate coating used to help protect posts against the elements. Properly maintenance is still required to prolong the life of the posts.
• Indoor sportshall use only.
• Uprights made from 75mm x 50mm heavy duty aluminium.
• Sliding net retainer complete with hand wheel, ratchet tensioner and brass pulley wheels.
• The Strap length for the winch is 600mm.
• Total weight 37.5kg per set.
• Net and floor plugs not included.
Please note 2 floor plugs are required per post.
Sockets will require professional installation, these can be purchased seperately for an addtional charge.