Pirates Tale Totes
KIT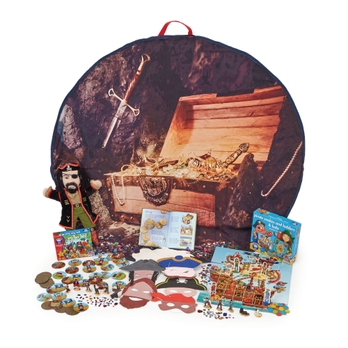 G1633381
Product Description
A flexible resource for developing literacy and speaking and listening skills, this tote bag of pirate tales will stimulate role play, provide ideas for writing tasks and get their imaginations running wild. Young buccaneers can create pirates hats, learn about the pirate life and develop their own stories. The pack includes a printed bag, pirate hand puppet, bag of jewels, two games, pirate figures, pirate mask craft pack and a book.
Reasons to Love:
• The handy tote storage bag opens out into a colourful play mat which can be used as a base for imaginative play.
• Characters are included for story-telling and role-play to stimulate imagination and exploratory talk.
• A high quality book provides a useful link to the resources, and can be shared with a group to develop vocabulary for their play and provide a shared point for discussion on the topic.
• A variety of other activities are included to promote discussion, collaboration and the opportunity for adventure!
• A great way of developing cross curricular links, with a variety of resources promoting collaborative play.
Learning Outcomes:
EYSF Profile
Expressive arts and design
• This involves supporting children to explore and play with a wide range of media and materials. It involves providing children with opportunities and encouragement for sharing their thoughts, ideas and feelings through a variety of activities in art, music, movement, dance, role-play, and design and technology.
ELG 03 Speaking:
• Children show some awareness of the listener by making changes to language and non-verbal features. They recount experiences and imagine possibilities, often connecting ideas. They use a range of vocabulary in imaginative ways to add information, express ideas or to explain or justify actions or events.
ELG 06 Self-confidence and self-awareness:
• Children are confident about trying new activities, and say why they like some activities more than others
• They are confident speaking in a familiar group, will talk about their ideas, and will choose the resources they need for their chosen activities
Playing and Exploring: characteristics of effective learning
Children use play to bring together their current understandings, combining, refining and exploring their ideas in imaginative ways. Representing experiences through imaginative play supports the development of narrative thought, the ability to see from other perspectives, and symbolic thinking.
Spoken Language Year 1 – 6
Pupils should be taught to:
• Listen and respond appropriately to adults and their peers
• Ask relevant questions to extend their understanding and knowledge
• Use relevant strategies to build their vocabulary
• Give well-structured descriptions, explanations and narratives for different purposes, including for expressing feelings
• Maintain attention and participate actively in collaborative conversations
• Use spoken language to develop understanding through speculating, hypothesising, imagining and exploring ideas
• Participate in performances, role play and improvisations
• Gain, maintain and monitor the interest of the listener(s)