Pie Corbett Reading Spine Reception - Pack of 12
Pack of twelve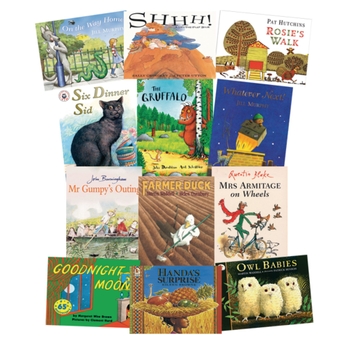 This product is not eligible for any further discount
Pie Corbett Reading Spine Reception - Pack of 12
Pack of twelve
G1586539
Product Description
Includes well known and traditional stories to captivate young audiences. Exposure to rich language that uses rhyme and repetition helps to inspire early reading and encourage speaking and listening skills through retelling the story and question and answer activities. Includes Owl Babies, The Gruffalo, Handa's Surprise, Mr Grumpy's Outing, Rosie's Walk, Six Dinner Sid, Mrs Armitage, Whatever Next, On the Way Home, Farmer Duck, Goodnight Moon and Shhh!. For Free downloadable teacher's notes and activities to support reading Click Here.
Reasons to Love
Contains high-quality, captivating and beloved early years stories.
Stories all use rhyme and repetition to encourage re-telling and development of Phase 1 phonics skills.
Build a classic collection of books for your setting.