Jolly Phonics Starter Kit Extended
LowestPrice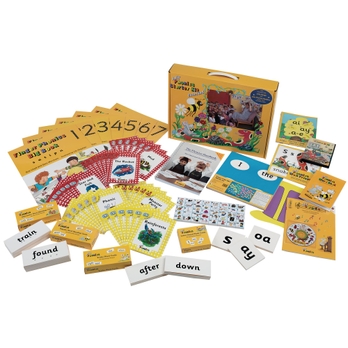 Jolly Phonics Starter Kit Extended
G1212579
Product Description
Start delivering Jolly Phonics in your classroom. With a range of material to teach the 5 skills for reading and writing, the pack also includes decodable reading books so children can apply their reading skills.
Kit contains Jolly Phonics: DVD, Wall Frieze, Letter Sound Strips, Finger Phonics Big Books 1-7, Word Book, Cards, Alternative Spelling and Alphabet Posters, Tricky Word Wall Flowers, Jolly Songs, Jolly Readers Level 1 and 2 Complete Sets of 18 books.
Reasons to Love:
• Jolly Phonics meets the DfE criteria for an effective systematic synthetic phonics teaching programme.
• Jolly Phonics is a programme for Reception Year, which introduces a sound a day, using a multisensory approach. Each letter is introduced with a character story and sound, and fun songs will help children to remember the sounds. Children are taught to blend and segment, and 18 decodeable books are included in this pack.
• The resources for will save you time when planning: letter sound strips, cards, alternative spelling and alphabet posters, tricky word wall flowers, wall freeze are all available in this starter kit.
• The pack comes with a teacher handbook to aid planning and delivery.