Stationery essentials: items every SBM needs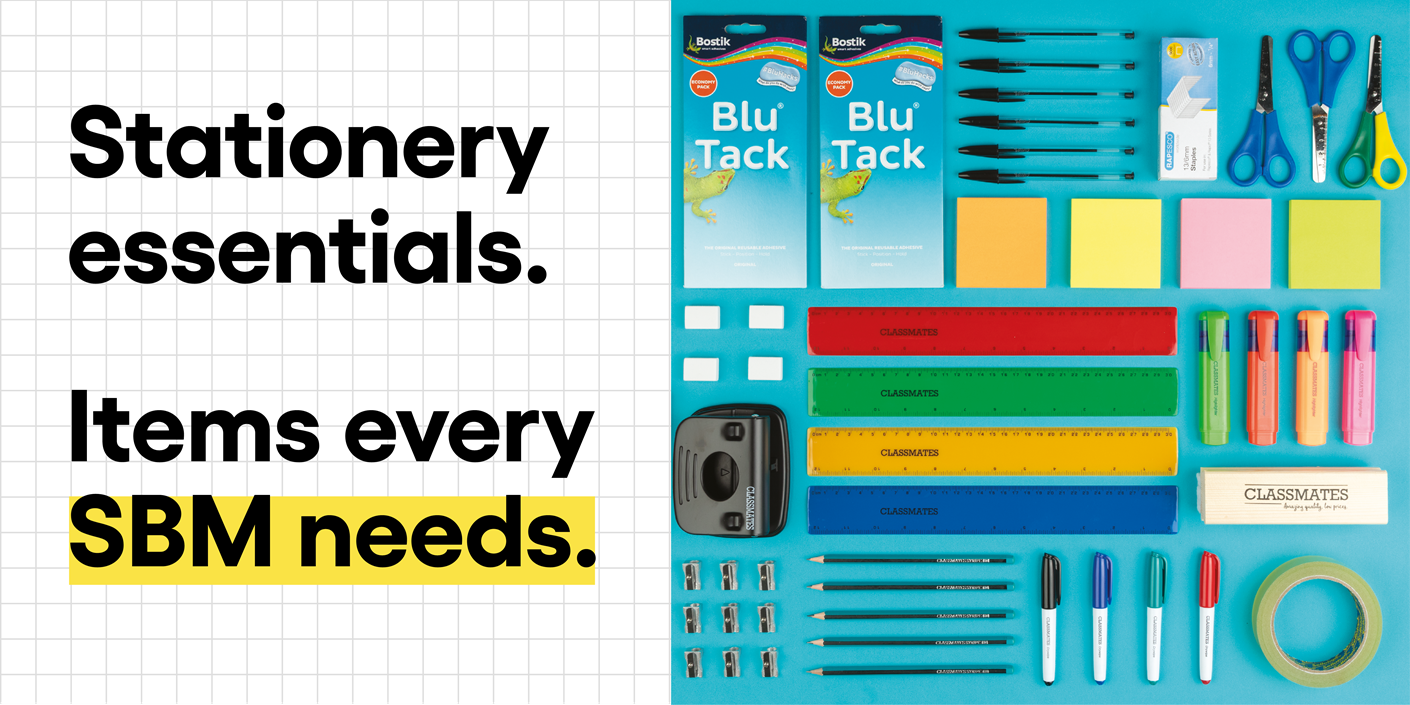 Stationery essentials: items every SBM needs
Stationery is not only essential for a school, but it is also imperative to be stocked up on personal stationery for an SBM. Stationery is the centre of organisation which is important for an SBM due to the heavy workload that SBM's must manage.  
For National Stationery Week, we have created a list of must-have stationery essentials that every SBM needs to aid them with their work. Whether you love stationery or you haven't thought about what stationery you need for yourself, GLS are here to help manage your workload.  
Stationery essentials every SBM needs
There is a plethora of different stationery that are useful for staying on top of your work and keeping everything tidy, as well as organised. From pens to desk organisers, to paper and everything in between, we will ensure that your personal stationery works for you. 
When choosing your personal stationery, bear in mind that items disappear, break, or are borrowed so do not always go for the highest quality. We understand that most stationery can be high priced and so the cost-effective alternatives are great for your own use. 
Pens & pencils
The first stationery essential an SBM needs is plenty of pens and pencils. Ensure that you have more than you need as pens and pencils are notorious for going missing and being borrowed. Buy yourself a few value packs in case they break or run out too. Plus, having these packs will guarantee that you can jot down your notes.  
As an SBM's day is hectic, essential tasks like note taking are often done in a rush or whilst talking to somebody. Having large packs of pens and pencils allows you to find one easily so you can write straight away. To help with this further, invest in some pen pots for your desk. Having pen pots will keep your desk organised and tidy whilst having essential writing tools in an accessible place.  
You can also have a high-quality pen that you can use for more formal writing. Make sure to keep this in a place that can be easily reached but where the pen will not go missing from. 
We understand that quality and value is a must for stationery items that are for the whole school. We have a pack of 1500 pencils that are perfect for your school that are high quality and versatile. Perfect for children to grip and they can sketch, draw, and write with them easily without breaking.  
When children are ready to move onto using a pen, stock up on easy to hold pens that are ideal for developing better writing control and letter formation.
Notepads
As an SBM notepads are extremely important to have. A large proportion of the job involves taking down quick notes and important information. It is essential to have more than one notepad to keep organised. To separate topics, you could use sticky tabs or dividers making it easier to refer to your notes as they are labelled. To take this further, you may want to consider colour coordinating topics that go together.  
As notepads are expensive, you could opt to purchase a pack of exercise books for yourself. This is particularly useful if you need multiple notepads for different aspects of your job. 
Sticky notes
For rushed note taking, organisation, or reminders sticky notes are great to use as an SBM. They are the perfect stationery item for temporary notes and reminders. Plus, they can help with organising work and items in your office too. Use them as labels so you can locate items in your office quickly.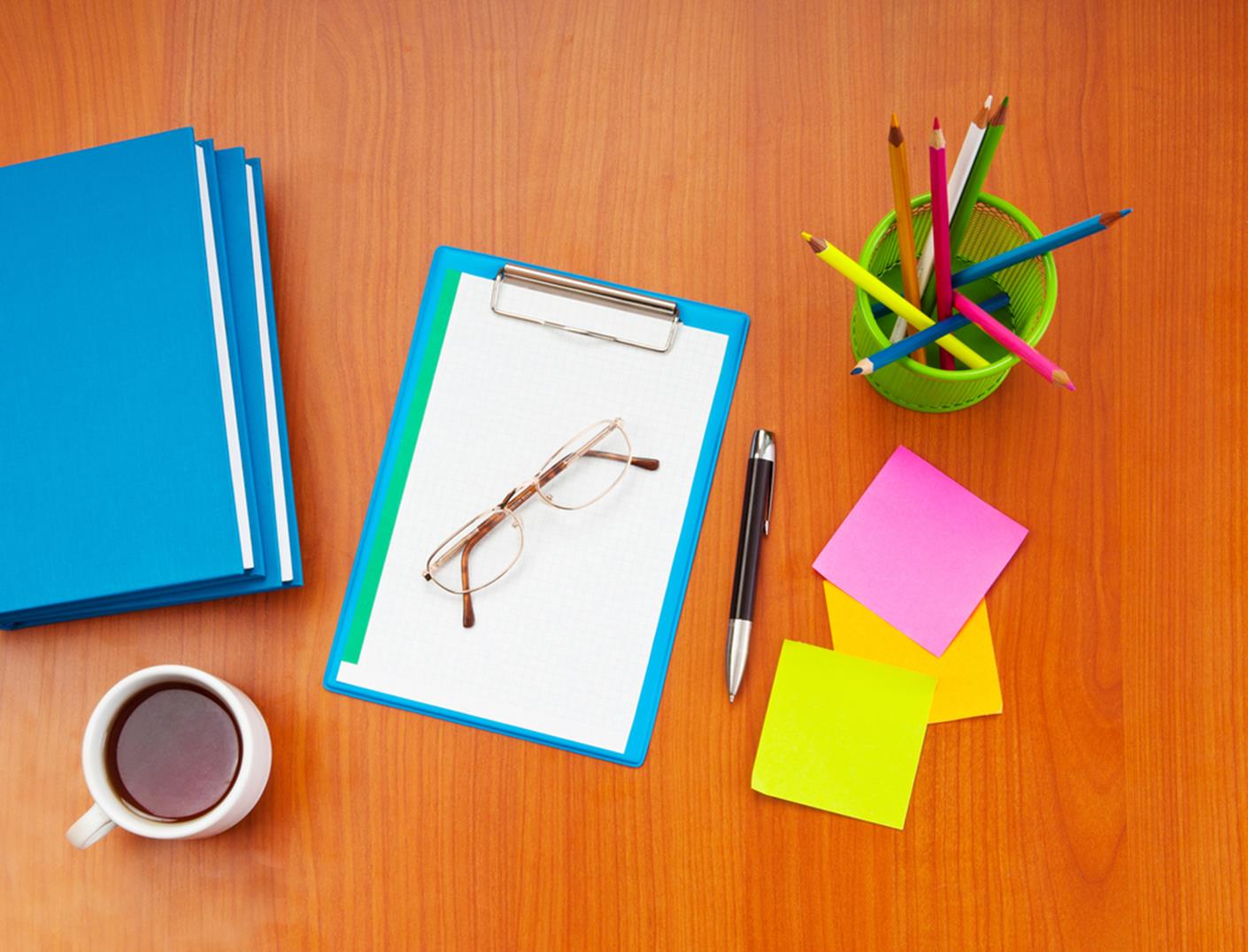 Folders
A large amount of paperwork comes with the job as an SBM. It can get to a point where important documents get lost in the piles of paper. It is essential to store paperwork in a safe, secure and easy to locate place. 
For personal information that needs to be kept in a filing cabinet, store them in different binders. You can colour co-ordinate for different types of paperwork. For the more general and everyday paperwork consider storing them in folders. Again, use different colours so that you can distinguish which paperwork is stored in which folder. Label binders and folders too.  
For the folders, invest in some book racks or desktop organisers so you can store them on your desk neatly. This will make the everyday paperwork easier to find. If there is too much for the top of your desk, then store the folders in the desk drawers.
Highlighters
To help find key information within paperwork use highlighters. Go through documents and highlight the parts you need and what you will refer to. Create a colour system for different topics or reasons such as yellow for personal information. This helps to locate important text within the large amounts of paperwork SBM's have. 
Highlighters can also be used to help organise notes by dividing sections so that you can differentiate why those notes are there.
Paper
Having access to bulk paper is a stationery essential for SBM's. Ensure that you have plenty of plain paper due to the large amounts of printing and photocopying that needs to be done. This applies for your own personal stationery as being an SBM requires a lot of paperwork that must be printed. Consider adding a few extra packs next time you purchase paper for your school to set aside for yourself. This allows you to fulfil your job role efficiently due to the constant access to your own plain paper.
Staples & paperclips
These stationery essentials are great for SBM's to keep all paperwork together. Staples are useful for large documents that are more than one page long. Using a stapler doesn't only help to keep large documents together, but it can also help the pages to be in order. This is perfect to keep everything organised which in turn helps SBM's to carry out their job effectively.  
Paperclips have the same use; however, they can work better for documents that are similar. For example, SBM's have many documents on a certain topic (such as finance) that can be banded together using paperclips. This is useful for making sure that no important documents get lost. Plus, using them in this way allows you to know where certain topics are.  
Sellotape, glue & blu-tack
These items are most often overlooked by SBM's due to relating the products for what the school needs and not themselves. However, SBM's can use these in a versatile way.  
Sellotape can be useful for taping up any packages that need to be sent. Also, this can be used to seal envelopes so that important information and letters are kept sealed and safe.  
Glue is a frequent item of stationery that SBM's must ensure the school have. However, having two to three personal glue sticks is a must. You can never tell when glue is needed whether it is for sticking something together or helping to seal other items. At some point during the role of an SBM, glue will be needed so it is best to be prepared.  
You can purchase our exclusive packs of glue that are available for May. These come in bulk so keep some for yourself and the rest are perfect to use for your school. They are non-toxic, solvent free and are top quality.  
Blu-tack is a great personal stationery essential for an SBM to stick notes up that may be needed during the day or to pin up any other useful resources. Create a display of resources and paperwork that you need every day and hang them to keep your desk tidy. You can also use drawing pins.
Stationery is essential to the role of an SBM as they help to organise workloads and allow SBM's to work quickly and efficiently. It is crucial to invest in your own stationery as well as for the school as stationery is the centre of allowing SBM's to complete their various tasks. 
Have a look at how to keep organised within your work in this blog. Find some more useful stationery items that you can use to have a tidy organised office.