13 organisation tips for school business managers

Is your desk organised? A mess? Or an organised mess? If you'd like to turn over a new leaf or you're looking for organisation inspiration, we've gathered some of the best office organisation tips the internet has to offer.
1. Purge!
We all dream of purging our lives of anything that isn't needed. But in an education setting it becomes difficult to let go of things when you have experienced that heart drop feeling you get when you need something you threw away the week before.
Best rule to stick by? Get rid of anything where a digital copy is also available.
2. Make digital copies
We all carry a portable scanner in our pockets that means we can make digital copies for most things at the click of a button.
Use your mobile phone and a scanner app to make digital copies of important documents. Many scanner apps also allow you to choose to send the saved scans to Dropbox, Google One (Drive) or your desktop.
3. Establish work 'zones'
Help yourself be efficient by assigning areas for different types of work. Your main working area will be your desk, a reference/storing area will be filing cabinets or book shelves and your supply area will most likely be a stock cupboard – be sure to take your day-to-day stationery supply over to your main working area.
Think carefully about what needs to be in close proximity to your main working area.
4. Label for guidance
Investing in a good labeller could be a great move. Labelling shelves and areas helps others to understand your working practices and routines and saves people from interrupting you regularly to ask where to put things!
5. Organise your desk drawers
When was the last time you cleaned out your drawers? Aside from the treasure trove of forgotten stationery items you might find, organising your desk drawers can help to save you time and stress trying to find that day-to-day stationery you need in a flash.
Invest in some organiser trays for the little bits like paper clips, stopping them sliding to the back to be forgotten forever.
6. Assign documents discard dates
To cut down on the amount of hard copy documents collecting in your office, assign documents discard dates. When can they be safely recycled? Brill, write the date at the top of on a sticky note and have a clearout every few weeks.
7. Label your cords
This is especially helpful if you work between multiple sites or work from home regularly. Using electrical tape and a permanent marker, label your power cords.
You'll be grateful when you come to leave in a rush and you're able to distinguish between your laptop and your extra screen's plug!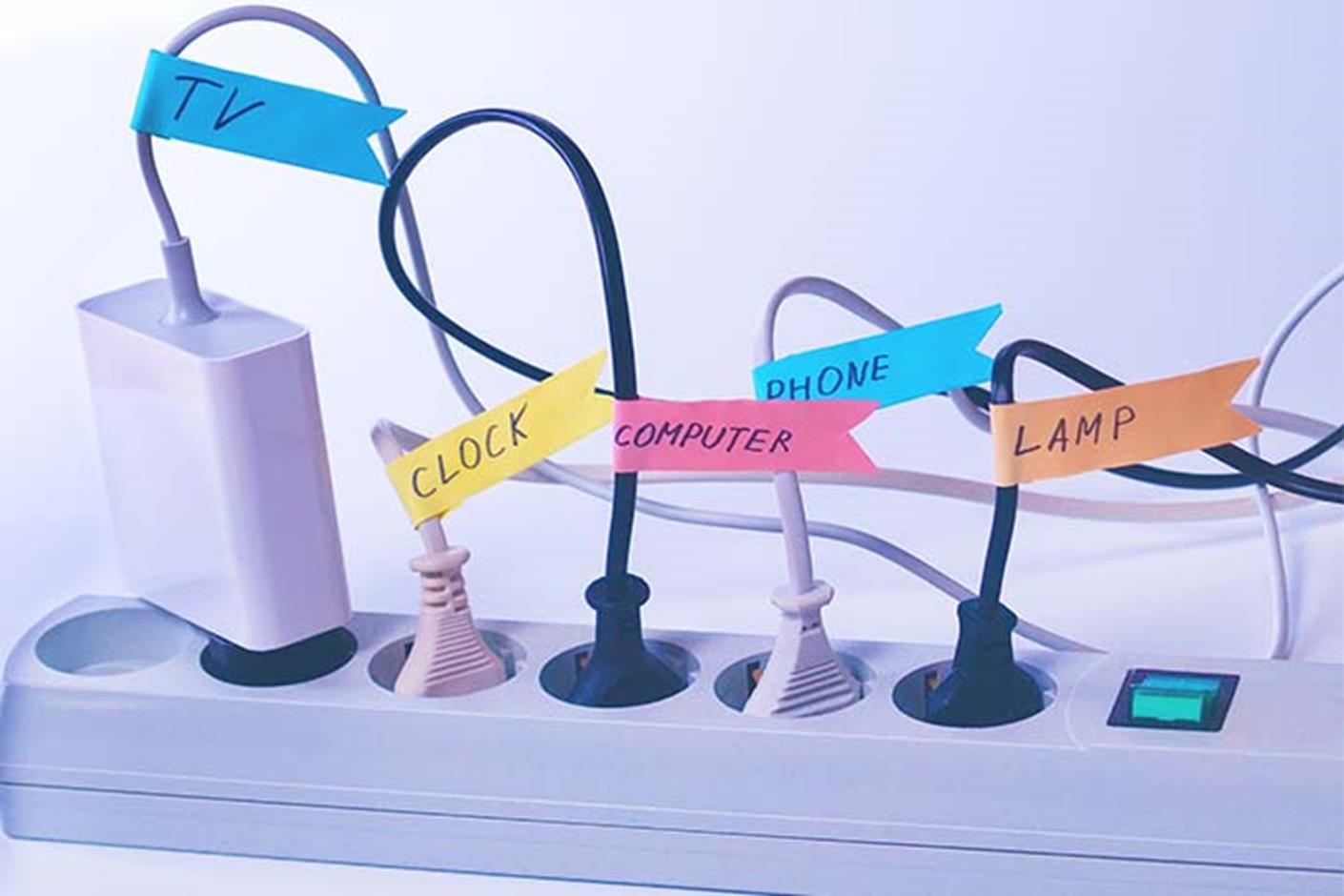 8. Use your wall space
Make sure you're utilising all the space you have in your office. If you have a small desk, hanging up scissors or your stapler could save you space. Having an especially assigned spot for these types of tools could also prevent them from being lost… or 'lost'.
9. Have a 'landing pad'
How many times a day do people have documents they need to give us? Too many to count? A clearly labelled 'Landing Pad' could prevent unrequired interruptions. Anything anyone has to give to you can go on this spot and you can deal with it as and when you get the chance.
10. Organise your physical files
School Business Managers are undeniably some of the most organised people on the planet. Because they have to be. But a bit file organisation inspiration could help provide a new perspective.
Your filing structure should resemble a tree: top-level folders or dividers are your roots and then subfolders are branches off the tree and so on and so forth until you get down to filing the veins of each leaf.
Your 'Landing Pad' or inbox is for documents that will be sorted, perhaps once a week or however often you need to sort through documents flying your way.
You might also have a portable file folder, particularly if you work between different sites as part of a trust or alliance of schools.
Consider, carefully, your use of labels and colours of folders with your filing system.
11. Organise your digital files
Digital files can very quickly become unwieldy, particularly if processes are changed or added to. But it's possible to keep your digital files organised as long as you stick to these two rules.
Every file in your system should be in a folder that represents it (and not on your desktop).
Structure your files in a way that makes it easy for you to find any file or folder quickly.
Rule 2 could be different for different types of schools or job roles. But consider organising your files by category or date and pick the one that makes most sense to your workflow.
You can also save yourself valuable time by making shortcuts to the files that you use daily.
12. Create manuals for how to use your filing system
School Business Managers are definitely superheroes in our eyes, but they're still human. They still get ill. With that in mind, it may be time to create manuals for your filing systems.
If you are unwell, or absent for whatever reason, the last thing you want are phone calls from panicked colleagues because they can't find Jimmy's parental consent slip for the trip to Cadbury's World.
As logical as you may have made your filing system, it still makes sense to create guides to ensure anyone can access what they need without your physical presence.
13. Organise your emails
Much like digital documents, it can sometimes seem wrong to get rid of emails just in case you need them in the future. At the same time, having thousands of emails in one inbox is a recipe for disaster.
Consider a filing system for your emails that makes sense for your workflow and try hard to stick to it. Emails can get out of hand very quickly if they aren't kept on top of.
Share your great organisation tips with us on Twitter @gls_education.